Welcome to part 1 of 3 of our Family Fun on Prince Edward Island blog!
Tour Coordinator Emilie here! Are you coming to PEI and looking for fun activities to do with the whole family? Well I have you covered!
Here are some fun filled activities you can do with the whole gang:
Fun at the beach!
Why not spend a day at one of our many beautiful PEI beaches? Pack a lunch and your sunblock and head to the water! Spend a day kayaking, snorkeling, building sandcastles, swimming or just relax and enjoy the sun.
Here is a list of some of our favorite beaches:
Basin Head Provincial Park
Brackley Beach – PEI National Park
Cavendish Beach – PEI National Park
Greenwich – PEI National Park
Jacques Cartier Provincial Park
Northumberland Provincial Park
Panmure Island Provincial Park
Red Point Provincial Park
North Rustico – PEI National Park
Stanhope – PEI National Park
Argyle Shore Provincial Park
Belmont Provincial Park
Brudenell River Provincial Park
Green Park Provincial Park
Explore Green Gables
If you love Anne of Green Gables as much as we do, you will love visiting the Anne of Green Gables Heritage Place and the Anne of Green Gables Museum at Silver Bush. Explore the magical world of Lucy Maud Montgomery's most beloved character. Take a stroll down Lover's Lane and the Haunted Wood, or a experience a carriage ride with Matthew Cuthbert himself.
I scream, you scream, we all scream for ice cream!
Don't forget to try a delicious cone from Cow's Creamery, voted "Canada's Best Ice Cream!". Try flavors with adorable names such as Messie Bessie, Gooey Mooey, Wowie Cowie and so much more!
Atlantic Canada's Best Pizza
While your visiting stop by for a slice of Famous Peppers mouth water pizza! Known as Atlantic Canada's Best Pizza, Famous Peppers has been featured on The Food Net Works popular show "You Gotta Eat Here!". Some Island favorites include Taco Delight, the Meatster, the Cardigan, and my personal favorite, the Spud Islander. The Spud Islander is made with a maple cream sauce, mozzarella cheese, caramelized onions and bacon, as well as locally grown sliced PEI potatoes. A little piece of Island heaven for your taste buds. You really do have to eat here!
Shining Waters Family Fun Park
Spend the day at Shinning Waters Family Fun Park! With over 40 attractions to choose from, such as Shining Springs Waterpark, Bandits Barnyard, Discovery Woods, Buccaneer Bay, and Storybook Land, Shinning Waters will definitely be a hit that your children will remember years from now.
Brackley drive-in Theater
Take a step back to the 1950's with one of Canada's most unique Drive-In Theaters! With showings happening every evening starting in the summer, you and your family can enjoy a movie from the comfort of your own vehicle, or from any of the seating areas that the Brackley Drive-In Theater offers. With a canteen stocked full of popcorn, soda and a variety of candies, an evening spent here is bound to become an instant favorite.
Help the Brackley Drive-In Theater celebrate their 60th Anniversary this year by catching a movie with the whole family.
Sandspit Cavendish Beach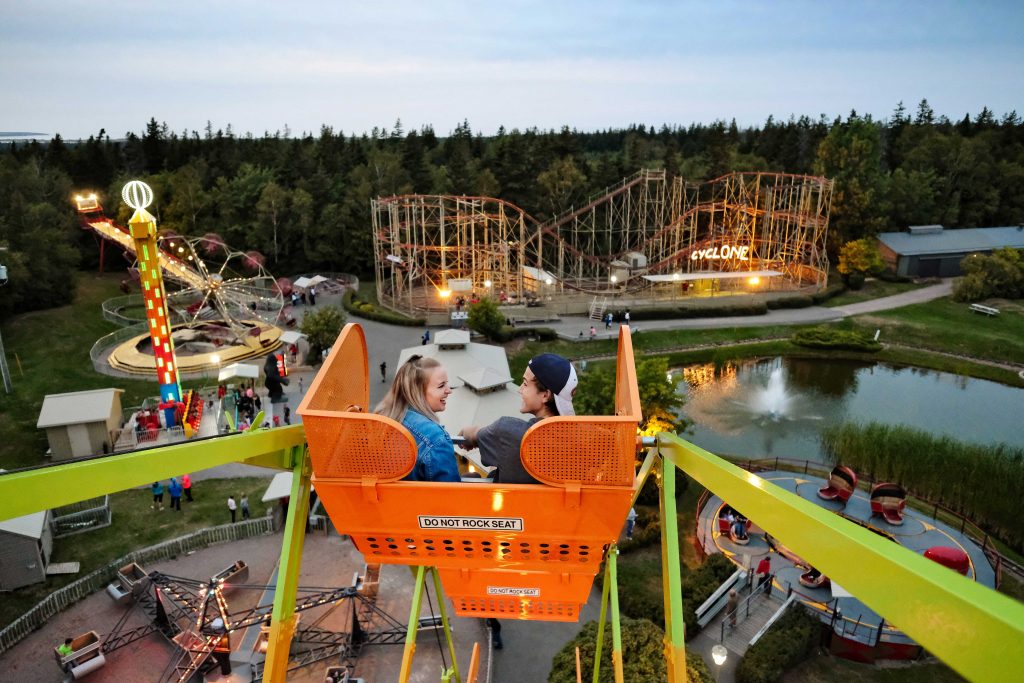 Sandspit is one of PEI's most popular amusement parks. Spend the day go-carting, going on their various amusement park rides, or playing fun games in the arcade.
Any of these stops can be added to our Build Your Own North Shore-Private Tour
Stay tuned for Part two in our Family Fun on Prince Edward Island series.